East Coast AP Marketing
East Coast AP Marketing is a full service promotional product, apparel and marketing company. We specialize in customer satisfaction with on-time delivery and access to thousands of quality products. We are proud to also be a fully operated and licensed Small and Minority Owned Business.
Our services include customized apparel and promotional products for corporate offices, health care organizations, and events, just to name a few. East Coast also offers graphic design services to companies looking for a full package marketing plan. For more information, please contact East Coast AP Marketing. We look forward to doing business with you!
Certifications
DBE - Disadvantaged Business Enterprise / SCDOT via DBE program, Office of Small and Minority Business Assistance (OSMBA)
SBE - Small Business Enterprise / SCDOT via DBE program
OSMBA - Woman-Owned Governor's Office of Small and Minority Business Assistance Business
AUCP - Arizona Unified Certification Program / ADOT / City of Phoenix
LUCP - Louisiana Unified Certification Program / DOTD
WBE - Women's Business Enterprise (MWBE) Minority Women Business Enterprise City of Charleston
CUCP - California Unified Certification Program CADOT
Featured Item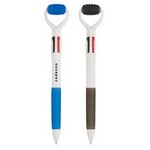 Massager Pen
Rubber Massage Roller On Top. Rubber Grip For Writing Comfort And Control. 4 Ink Colors. 7" H